Scouring the border destination with pleasant streets, great food and so much history and art? Take that route in Provence, in French Riviera, E Camargue Luberon.
The Provence It offers many alternatives to the motion curious tourist. Whether it is a large landmass and consequently varied, both because nature has been particularly generous creating unique shows. Also historically it has always had great importance and thus we find an infinite number of paths historical, cultural and artistic potential.
As recounted in this report, I followed with a Triumph Bonneville T120 This route took me from Cote d'Azur up to Camargue and then to Luberon; It is a route to do 5 days, even a week if you have ability and desire to gustarti more the city and the Provencal way of life.
As you can imagine it only one of many possible. It is enough to add a side trip to Marseilles or on Cevennes or still on Verdon to find a lot of other satisfaction.
When riding a motorbike in Provence?
From April to June It is the best time. Specifically, in June you can see the blooms of lavender fields. Autumn is also, obviously, a good time. I would avoid the summer period Cote d'Azur for traffic and Camargue for warm, humidity and mosquitoes. But if you prefer to bet the heights there are no special contraindications.
With that momentum going in Provence?
As mentioned, for this trip I chose a Triumph Bonneville T120 Black, ie a great Classicon. This is because I intended to do mainly provincial road and very little on the highway except for transfers. Ad ogni modo, this route in Provence lends itself to any type of touring bikes.
Roads and distances
Roads are generally well kept and moderately busy. In Cote d'Azur traffic is high and less enjoyable roads near large centers: better to go inside.
In Camargue the streets long straights interspersed with narrow passages in the lagoon, some minor traits in the white road. Petit Luberon and Alpilles have spectacular roads (similar to our Alps) second only to Verdon. Going down the road becomes a track Draguignan… and bite the reins.
Beware of limits, specie in Cote d'Azur…
As for distances, much depends on the bike and how many hours you decide to go riding or to visit the city or even lounging while watching the sea Camargue. Council to take this path 5 days so you can see everything calmly.
What see
There really are spoiled for choice, as I recounted in my reports. I highly recommend visiting the Picasso Museum in Antibes and the inevitable Palace of the Popes Avignon. A walk to Aix en Provence It is mandatory as a stop to'Sénanque Abbey e a Gordes in the Luberon. A very interesting is that offered by Ornithological Park of Pont de Gau, in the Camargue.
To advice the itinerary?
If motorcycle trips just to stay in the saddle from morning to night, Perhaps this part of Provence is not the best for you. If you like to learn, know, to discover… whether it's places, Art and History, then here is not rimandere over and follow this route.
Useful links to organize the trip
tested & Recommended: hotel
tested & Recommended: restaurants and bistros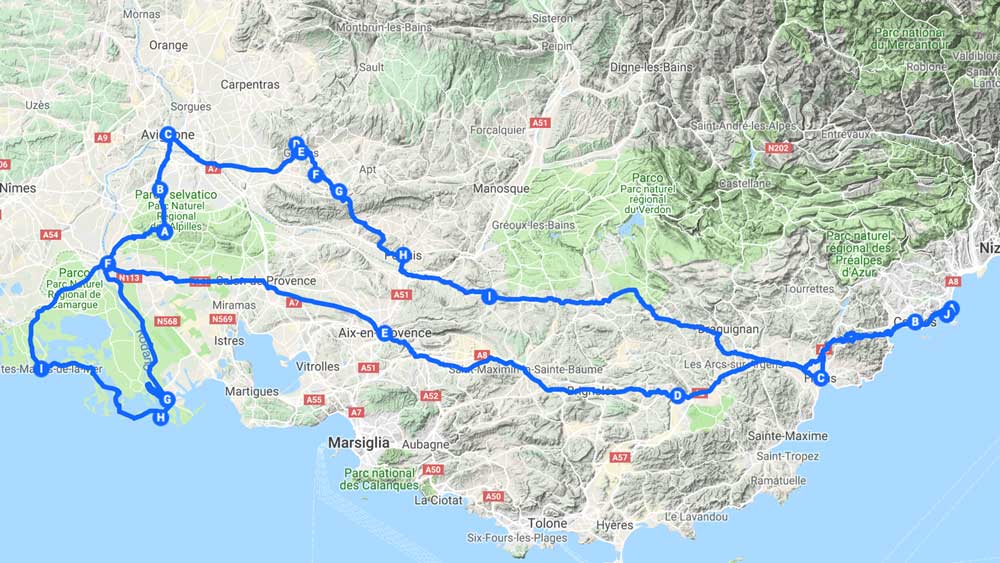 #RIDEMORE