Despite the big houses they stay cautiously away – with the exception of Harley-Davidson as we know which in any case was not present – the segment of electric motorcycles has shown itself effervescent in this edition of EICMA. At the Salone there were various proposals, from those already known to the more unknown and still in the embryonic stage. If in the previous post dedicated to my staff Best Of EICMA 2021 I have mostly mentioned well-known brands, in the list you will find below I could bet all my few possessions that you will meet brands that you have never heard of before.
This is because the electric motorcycle segment is still a "construction site open to a thousand uncertainties" and because it is mainly Chinese industry presiding over it, with a few fascinating exceptions mainly represented by start-ups looking for investors.
I flew over the myriad of scooters all the same made in China among which sometimes only the logo really changes and I focused on those bikes that, regardless of the displacement, they have something special, they suggest an idea, a concept. The latter, however, is increasingly absent from motorcycles "normali" flattened into categories ben definite: the electric gives us the excuse to experiment.
The most careful (or mischievous) they will notice that Soriano Motori is missing from the list. This is because I have already dedicated a lot of space to this project in this other article. As always, there is no ranking, but I proceed in alphabetical order. Let's go!
Cake Makka
If you've been following me for a while' maybe you will have noticed: I have a weakness for the minimalist design of Ride Cake. These Swedish guys have a clear vision and with their clean and essential lines and soft and full colors they tell us a story. There are two types of people among those who observe the Cake: those with the corners of the mouth down and those with the corners of the mouth up!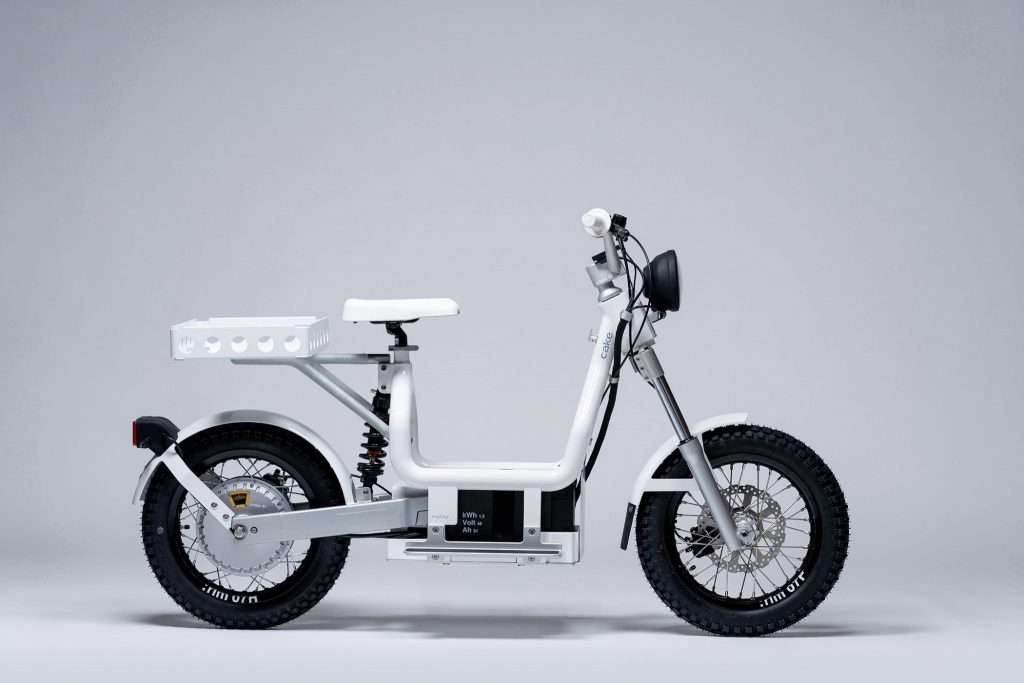 There is no middle ground and the latest arrival, the Makka, is no exception; it is a moped that – unlike other Swedish models – it doesn't cost a shot (3.800 Euro) but – like other Swedish models – it is full of practical solutions and can be customized with accessories that transform it into a small pack mule in a hipster version. Motor in the wheel from 3,6 kW e 50 km range (a powder' few, but how many are needed for a moped?) at the maximum speed of 45 times.
Felo FW-03 e GT-03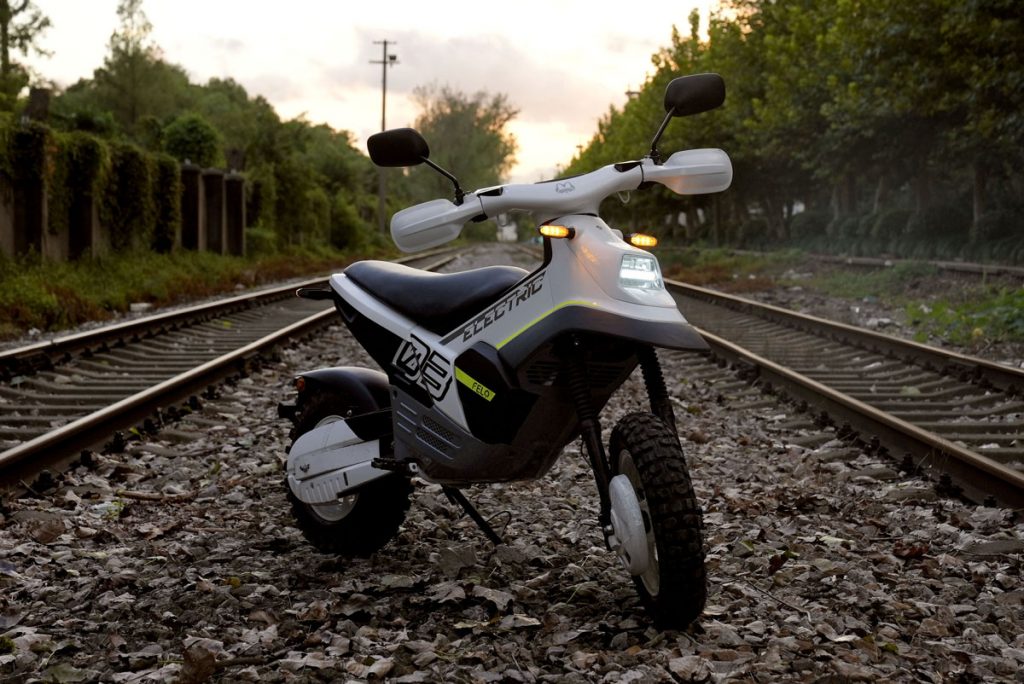 Here with us nobody knows her and she has never seen her yet, but Fellow is a respectable company in China, so much so that it was chosen by Kymco to develop its own F9 sport electric scooter which is none other than the Felo FW06. To attract my attention more, however,, it was not the albeit beautiful and performing FW06 (you know I have tastes "details") as much as the other two models with which he shared the stand, or FW03 e GT03. The first is the re-edition of the legendary Honda CUB, a moped that had considerable success in the early nineties. But of course now it's electric! And indeed the structure of the CUB is ideal for "to conceal" battery and powertrain, I find it a perfect retrofitting.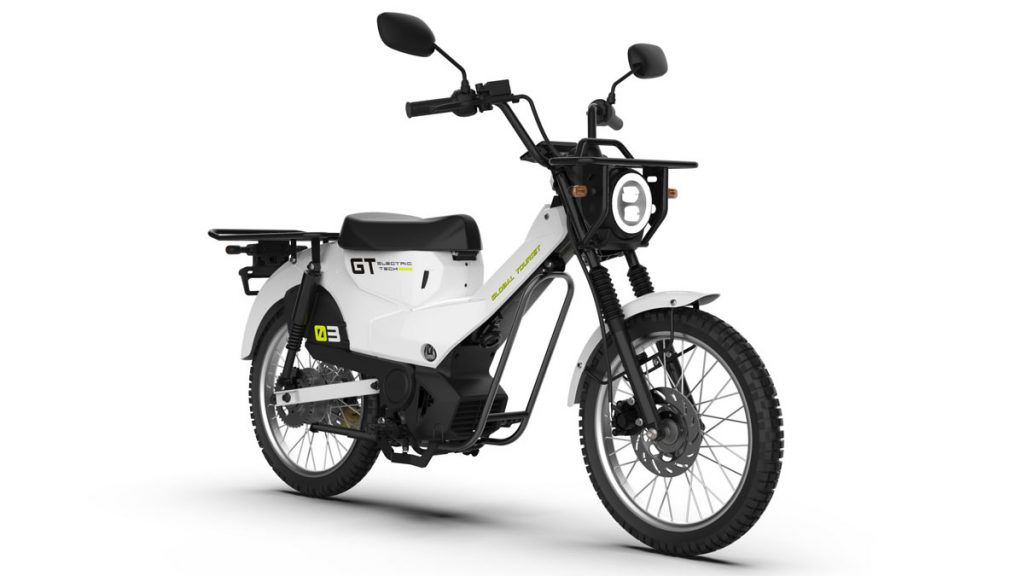 It was slightly more difficult to get it right instead of the GT03, which always starts from a Honda base but from the same CT-90 stainless steel. While the Japanese house has made a new edition 125 4T Fichissima – which, however, will not arrive in Italy apparently – Felo took the old one, it has updated the right and made it become electric. I know that few will understand me, but for me it is cool and I would leave immediately for a typical mission Patent Escartons. However, we still don't know much about him from a technical point of view, while of FW03 we know that it has a range of 100 km and touch the 80 km / h thanks to a 4 kW. We can therefore expect similar performance and homologation 125. Their arrival in Italy is considered imminent, but i still don't understand if they have a distributor.
Geon Scramper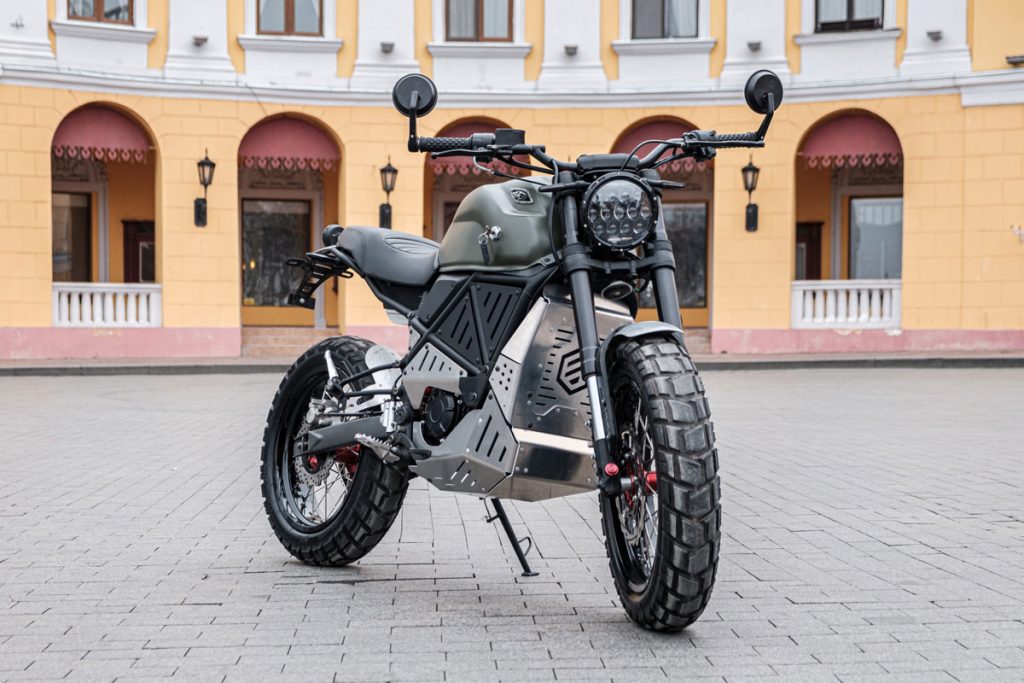 While walking, I noticed the prototype of an electric scrambler in a small, rather bare stand. So I stopped to chat with Olaksiy, a young Ukrainian boy who enthusiastically explained to me the project of Geon Motors. The bike is in an advanced prototype state, working and – according to him – ready for production. In fact, the technical specifications are already public on the their site: 125 km/h maximum speed, 186 Nm of couple e 15,8 kW power, lithium battery from 9,6 kW and autonomy ranging from 100 ai 210 km depending on the speed.
Charging takes place in 90 minutes thanks to a 3,6 kW. Particular (and for me questionable) is the choice of having a cambio a 4 marches complete with clutch. If we exclude the Zero Motorcycles DS and DSR models, which in any case are considered "dual-sport", the Geon Motors' Scramper could be the first electric scrambler to achieve series production. Good luck!
Nawa Technologies Racer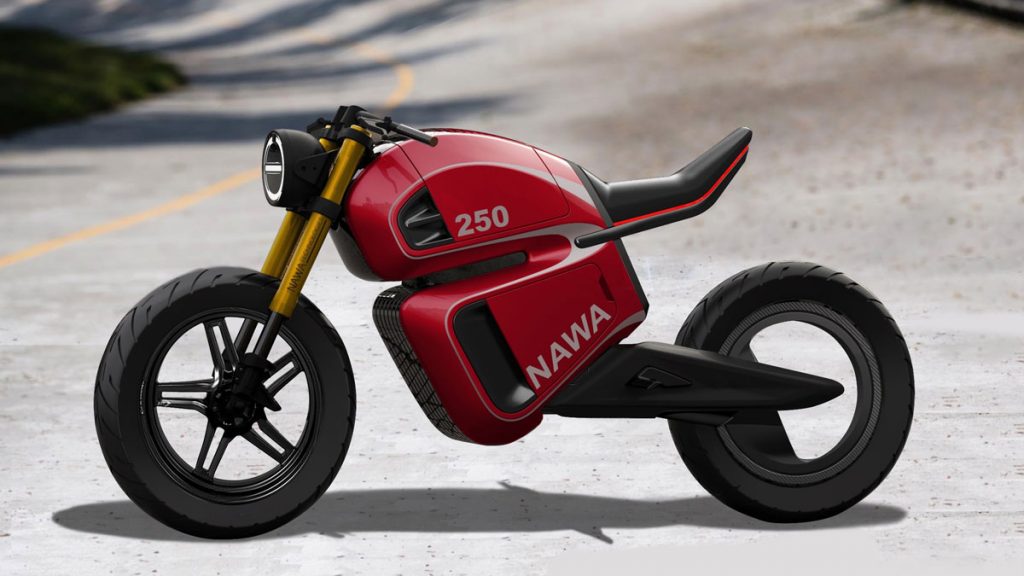 The prototype that struck me the most was that of Nawa Technologies, a French company from Aix en-Provence specializing in the production of super capacitors that has developed a very interesting bike not only from a purely aesthetic point of view but, more importantly, technical. It is not the first time that an original initiative has come from France thanks to electrons (by the way, where are we with the Gasoline Motorcycles?), but this Racer prepared by Nawa mainly to show its know-how is actually very promising.
The fundamental innovations are 3. The first, more relevant, is that the power pack is a hybrid which takes advantage of Nawa dei carbon superconductors. From what I learn, this solution allows you to reduce weight and increase autonomy and efficiency. Charging times are reduced and the battery can constantly discharge its power regardless of the charge level, something that it is good to remember does not happen with normal lithium ions. The second innovation concerns the chassis: the battery structure acts as a stressed element of the frame, therefore it has a structural role for the benefit of lightness. Finally the third peculiarity is the motor housed inside the rear wheel. However, it is not located in the center of the hub, rather on the rim and is very compact and light so much so that, ensure, it does not affect inertia when driving. The usual levers are located on the handlebar, but while the one on the right operates the front brake as usual, the left one acts on the engine brake e regenerate up to 80% of energy dissipated against the 30% maximum of one system "traditional". The Nawa Racer should reach i 100 km/h in 3 seconds and a maximum speed of 160 km/h, but especially pesa 150 kg (!) and has an autonomy in the mixture of 150 km that become 300 in an urban setting. Encouraged by early feedback at CES in Las Vegas, Pascal Boulanger, founder of Nawa, involved a number of partner companies including the well-known design studio Lazareth, to make the first working prototype and subject it to the test of different riders as seen in the video. I believe that at this point it would take the involvement of a motorcycle manufacturer to be able to ensure the series production of this Nawa Racer which, theme, otherwise it will risk remaining a great exercise.
Niu RQi Sport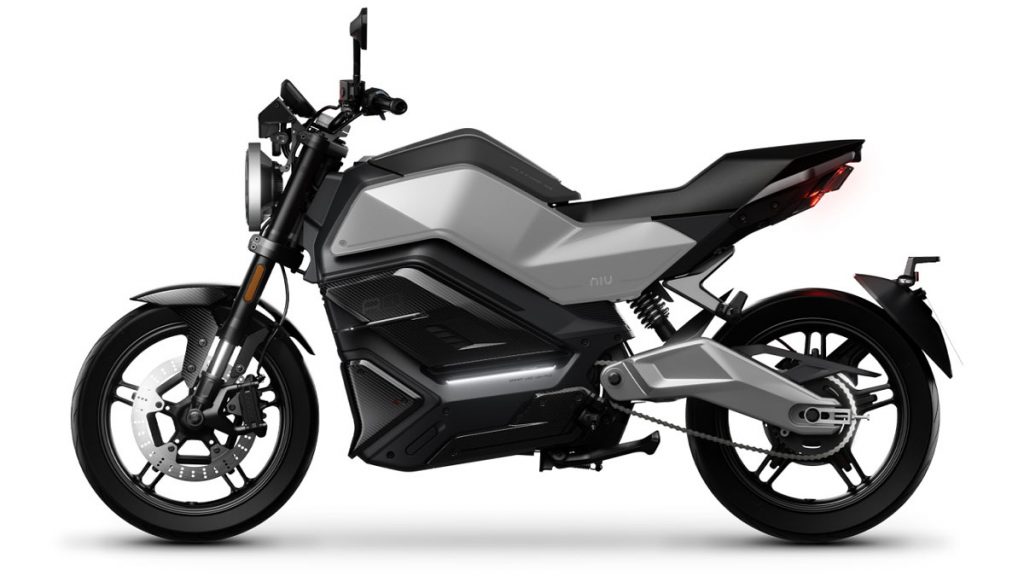 You don't live on scooters alone! It's in NIU they know that to build a brand, to ensure that especially here in the West the brand is taken more "seriously" it takes a motorcycle. Well, so, here she is! True to their taste for complicated acronyms, is called RQi Sport and it is one "naked" homologable as a 125 but well sized e, on the contrary, to see it live it seems of a superior category. The engine from 5 kW (peaking from 7,5 kW which can remain constant for 30 minutes) the spinge a 100 km/h. The weight is 186 kg and the autonomy should be about 120 km. The battery is removable, but it takes muscles because the two packs weigh 25 kg each. There is no shortage of the app and the ability to customize the TFT, but what attracts even more is the prezzo: 6.999 Euro! The electric motorcycle is becoming for everyone.
Ottobike Ovaobike CR-21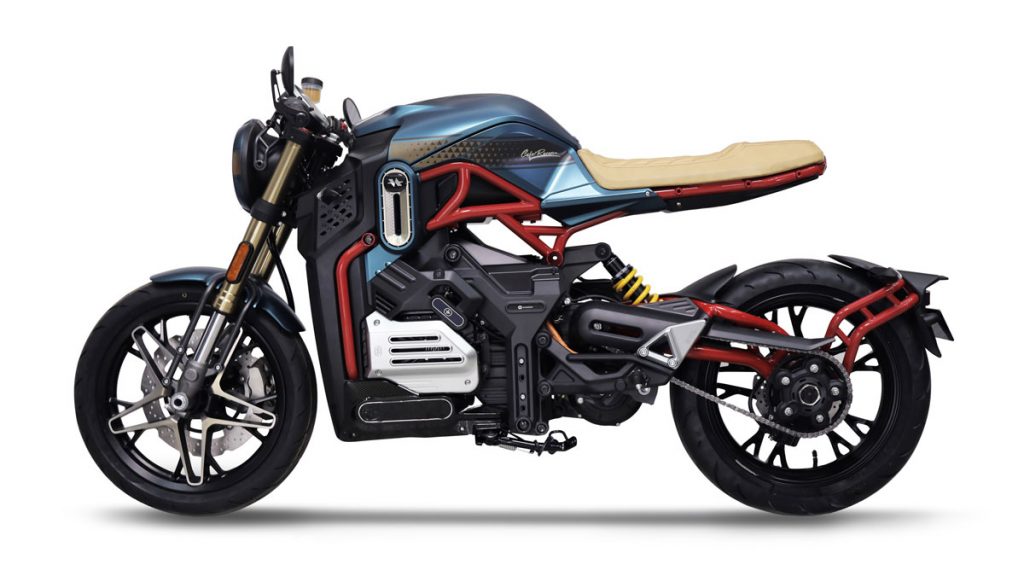 At EICMA 2017 I stopped to observe a small and colorful stand of a Taiwanese company. What intrigued me was a well-developed prototype and now close to production, He was called MCR (Mini City Racer) and I snapped this photo. It had 14 inch scooter wheels″ but it forms them like motorcycles, an original futuristic design and very interesting technical features such as dashboard camera both in front and behind, a gear lever to electronically select riding modes and an engine that pushed it beyond 100 km/h. That company was called Ottobike.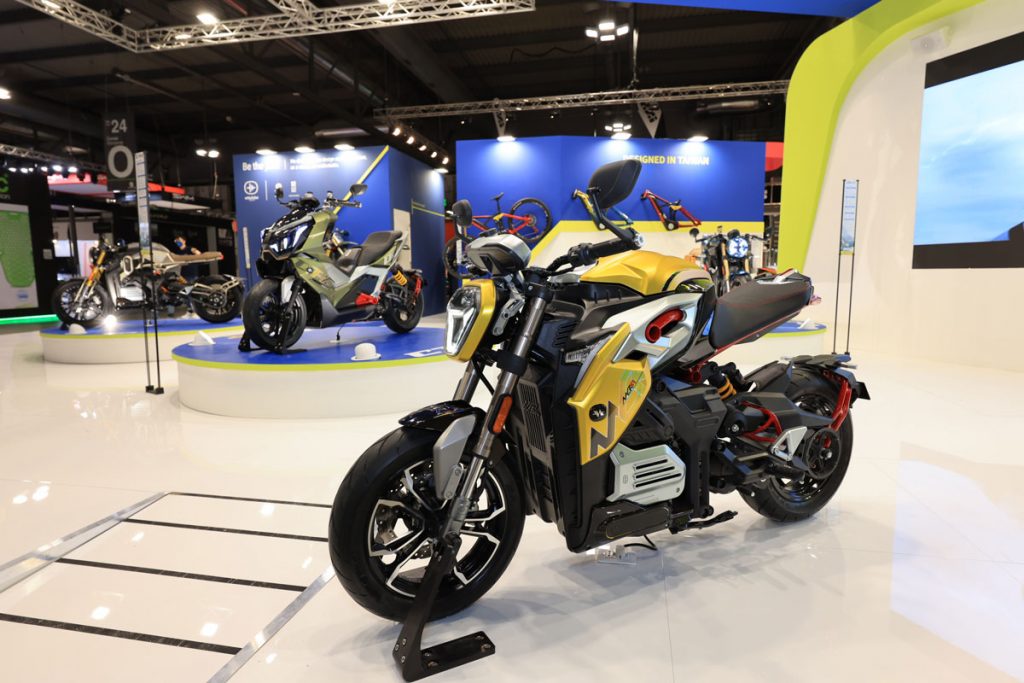 Three years later I meet Ottobike at EICMA 2021 but now it is a Group. The stand is at least four times large and the new brand appears on the bikes Ovaobike to distinguish it from Oiiobike used on ebikes. In fact, the prototype of that time is not only in production, but it is in its restyling, is proposed in 3 installations and its arrival in Europe is given to begin 2022 a 9.390 Euro. In the meantime, other products have arrived at his side, such as e-bikes, the prototype of a motocross (MXR), of a sport scooter (CT-X) is that of one cafe racer (CR-21). I speak above all of the latter because for me the most stimulating and original, but the other two prototypes are also very interesting.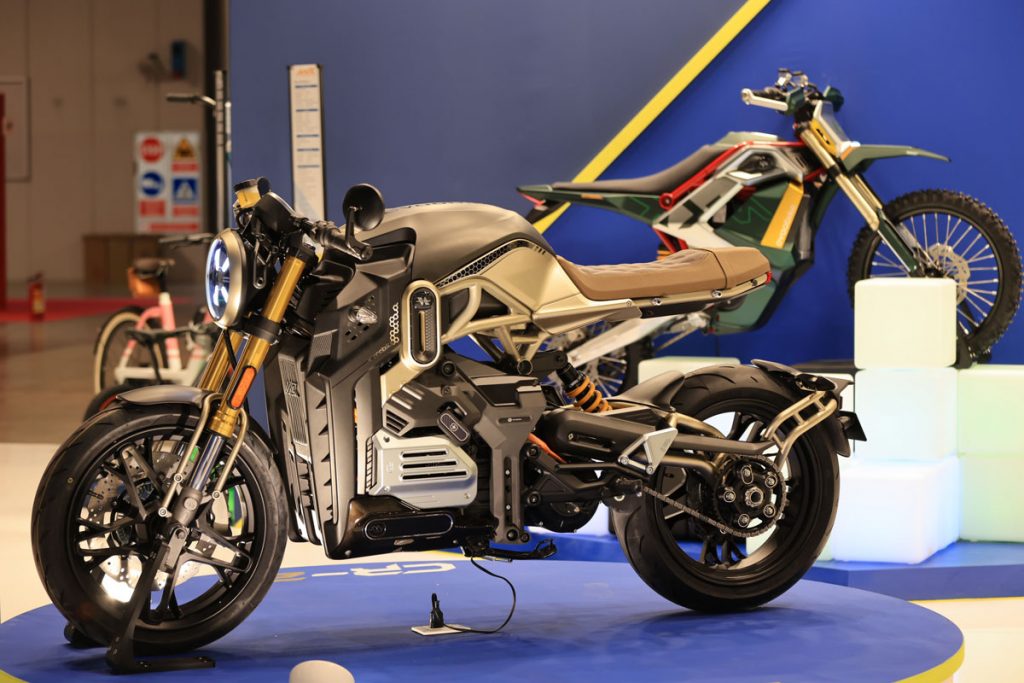 The lines are decidedly modern, almost sci-fi and looks like something out of a manga. The result, however, is anything but regrettable, indeed it is very convincing even live. The care that can be seen in every detail makes us understand that we are not talking about a low-end product. The engine is a 11 kW and performance, ensure, are comparable to those of a 300 cc. Unfortunately, I was unable to find out more about this CR-21 but I will keep an eye on it.
Trevor Stella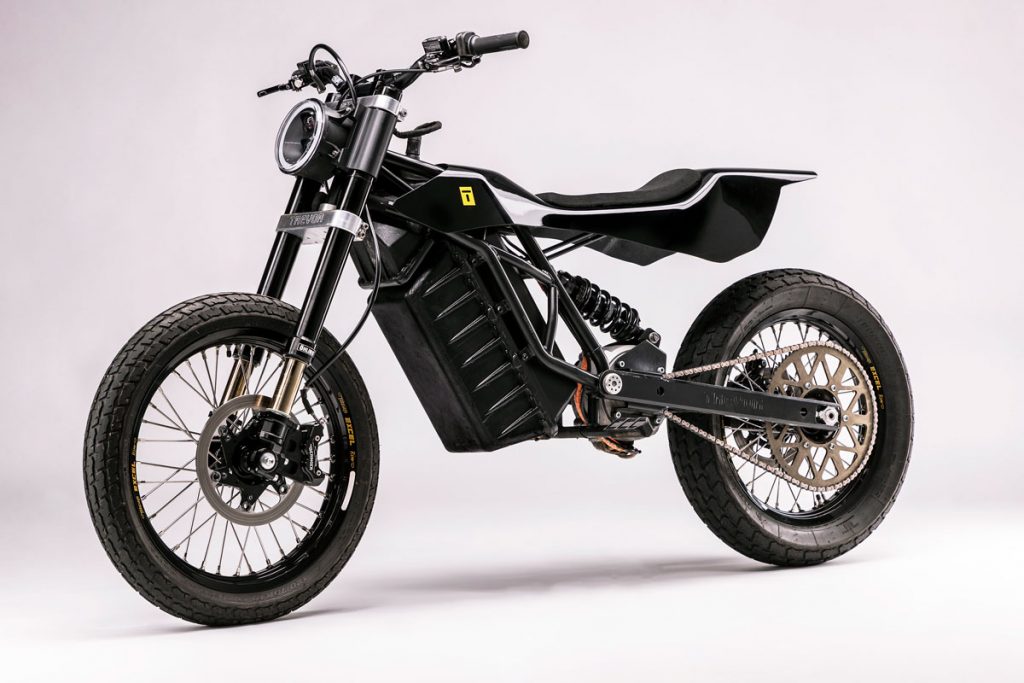 I follow with curiosity the events of Trevor Motorcycles for a while' because it immediately seemed like a very interesting and passionate project. This Belgian start-up was founded by two friends who are passionate about off road and flat-track with the desire to make their business cleaner and quieter. We know that noise is one of the biggest problems for small installations such as kart tracks and flat track tracks that are often located a short distance from homes.. From here and from the awareness of how the acceleration qualities of an electric motor were ideal for practice on dirt ovals, the project was born Stella, a refined and light tracker.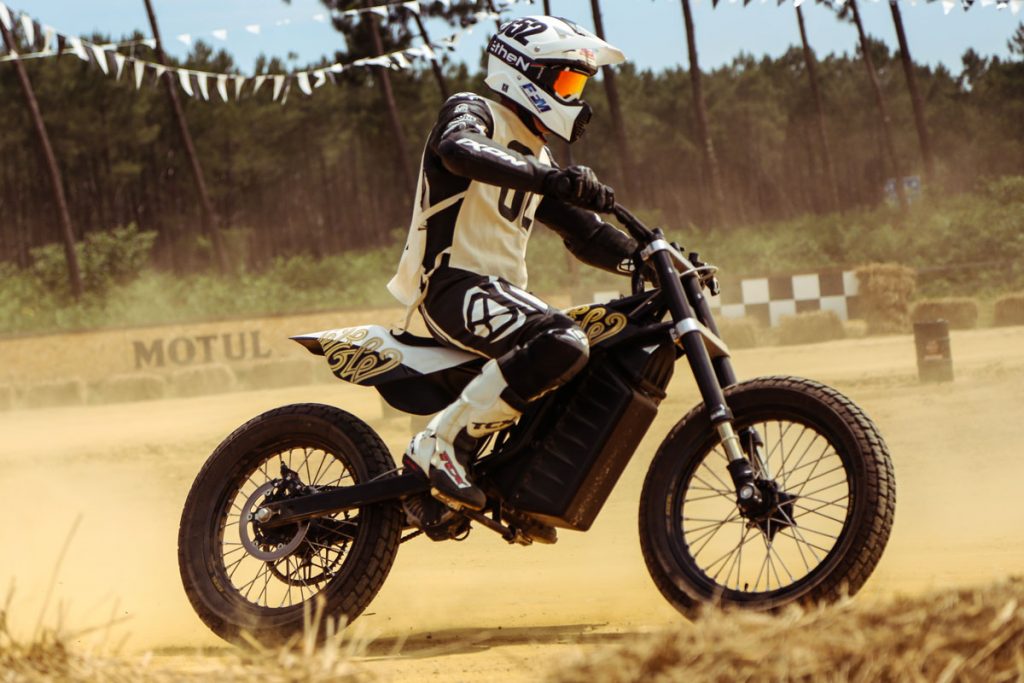 In Trevor they worked mainly on perfect balance of weights and what emerged is a singular architecture with the engine 11 kW "decentralized" and placed beyond the swingarm pivot that, perciò, it is very long. The resulting formal cleanliness is in my opinion admirable. The batteries 2,7 kWh have been developed by Sarolea which has treasured the experience on the Isle of Man. Molybdenum chrome frame and Ohlins suspension complete a refined picture. The price for the version approved for road use is 14.495 Euro.
Verge Motorcycles TS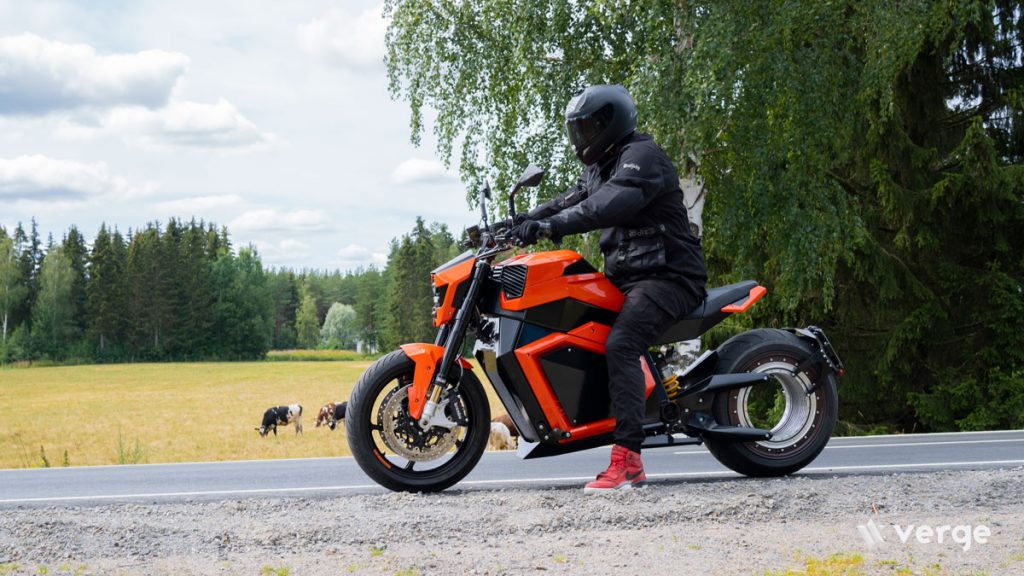 The Finnish startup's proposal is diametrically opposed Verge Motorcycles. For some time now they have been making themselves noticed with theirs TS especially for the massive and recognizable design and the solution of the engine "Invisible" inside the rear rim. The TS has a power of 80 kW (107 CV) but above all an unprecedented pair of 1000 Nm! Acceleration brings it, despite the 249 kg, to reach the 100 km / h in less than 4 seconds. The battery is good 20,2 kWh for an autonomy that goes from 200 ai 300 km depending on use. Charging takes place both in alternating current (4,5 hours) which continues (40 minutes). The chassis is also of a high standard with Ohlins FGRT suspension at the front and TTX at the rear and Brembo Monoblock brake calipers.. Obviously, the technology and components get paid, but the request does not appear so absurd in the face of so much originality: 24.990 Euro.
Vmoto Stash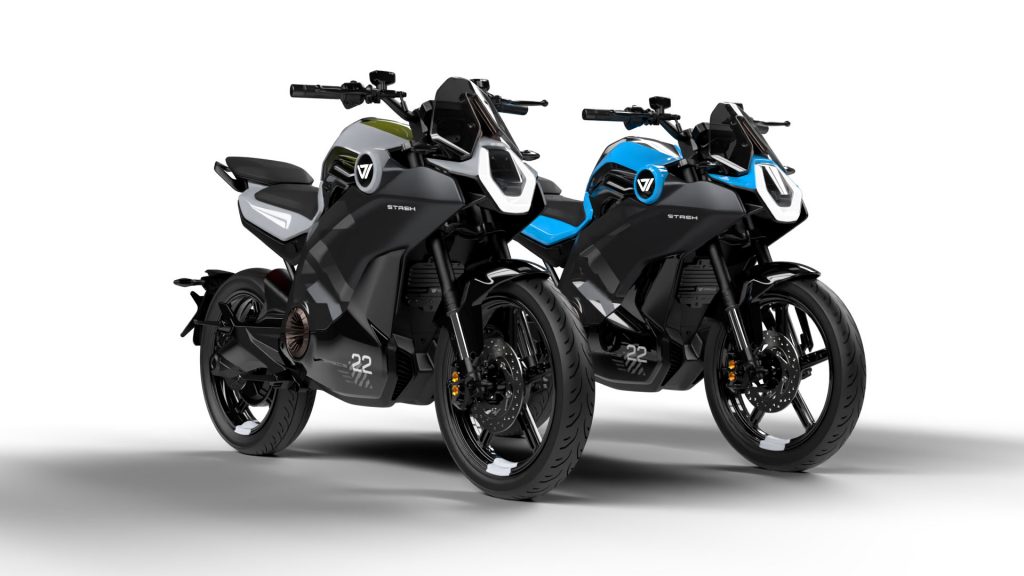 What I said earlier for NIU also applies to the group vmoto super punch which for some time has been making itself appreciated in our country for scooters and motorcycles branded Super Soco. At EICMA the time has finally come to bring the Vmoto brand into the field, within the group, is dedicated to the higher end.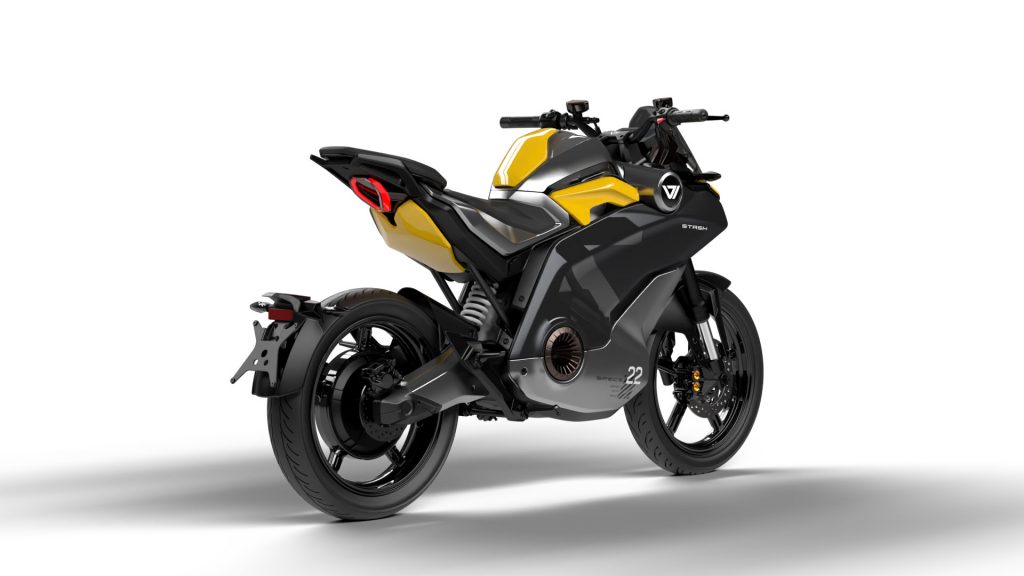 The first product is the Stash, a motorcycle for sixteen with a futuristic look designed by the C-Creative studio in San Marino. It has the size and approval of one 125: engine 6 kW for a maximum speed of 105 km/h and a considerable autonomy of approx 250 km (provided, however, to travel to 45 km/h). The weight is only 105 kg and the price has not yet been communicated but I hazard a guess about 6 mila euro.
Add ER-10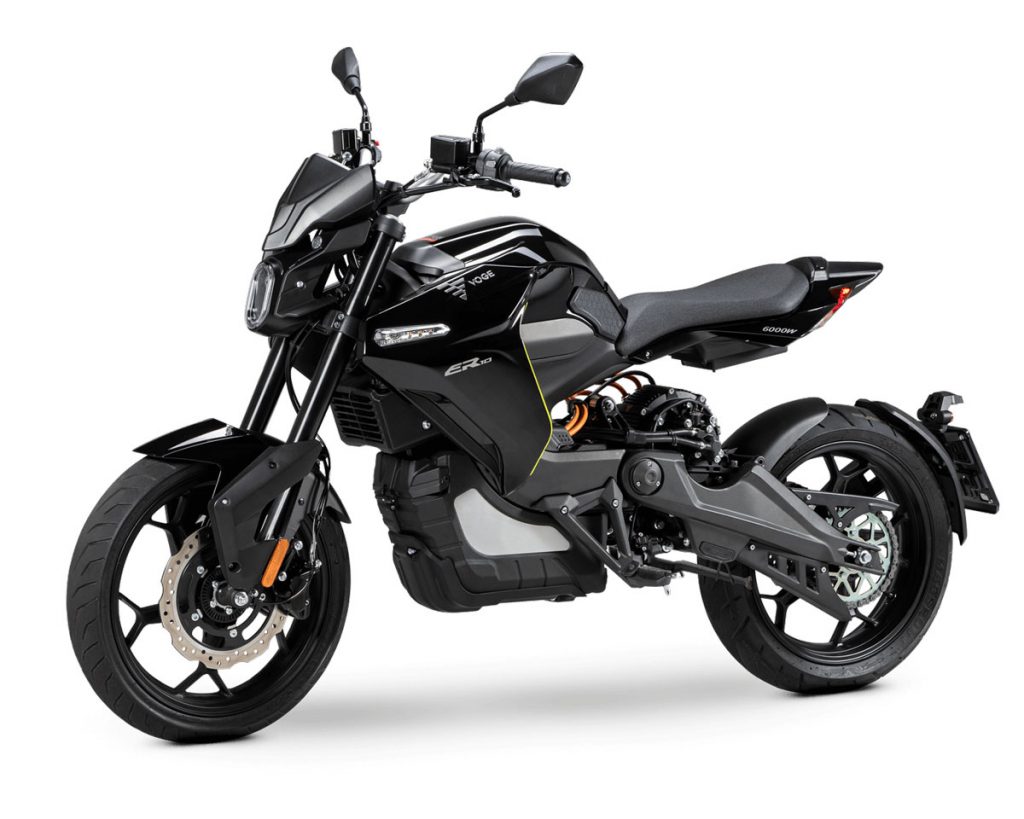 Among the Chinese brands that are rapidly gaining a place in the sun here on the Mediterranean there is certainly Vogue. Unknown until a couple of years ago, today it enjoys a certain interest thanks to interesting medium-displacement models at very attractive prices such as the Pass e la Trophy. Next to them now comes the ER-10, a motorcycle 100% electric with a lithium-ion battery of 3,7 kWh per a declared autonomy of 120 km. The engine is from 8,9 kW e 12 CV for a maximum speed of 90 km/h, performance suitable for mostly urban use. Notable are the weight of just 120 kg and the price of 6.590 Euro.
Zero Motorcycles SR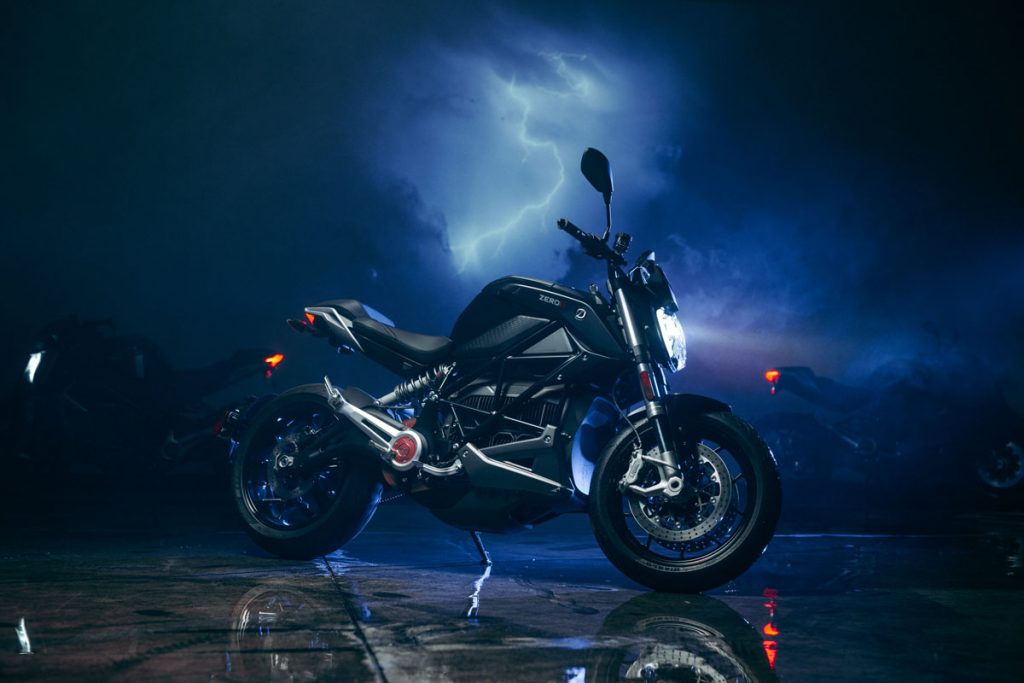 I can only conclude, almost inevitably I would say, with Zero Motorcycles which confirms itself as the leader in this segment, the only one to offer with an articulated and complete range. This year he introduced, in addition to the various model years, two important innovations concerning the upper part of the range, that developed on the latest generation platform. The first concerns the battery which maintains its dimensions but is lighter and has a greater density. This allows you to have battery packs of different capacities and, what is even more intriguing, allows you to purchase software upgrades at a later time "unlock" basically the battery capacity.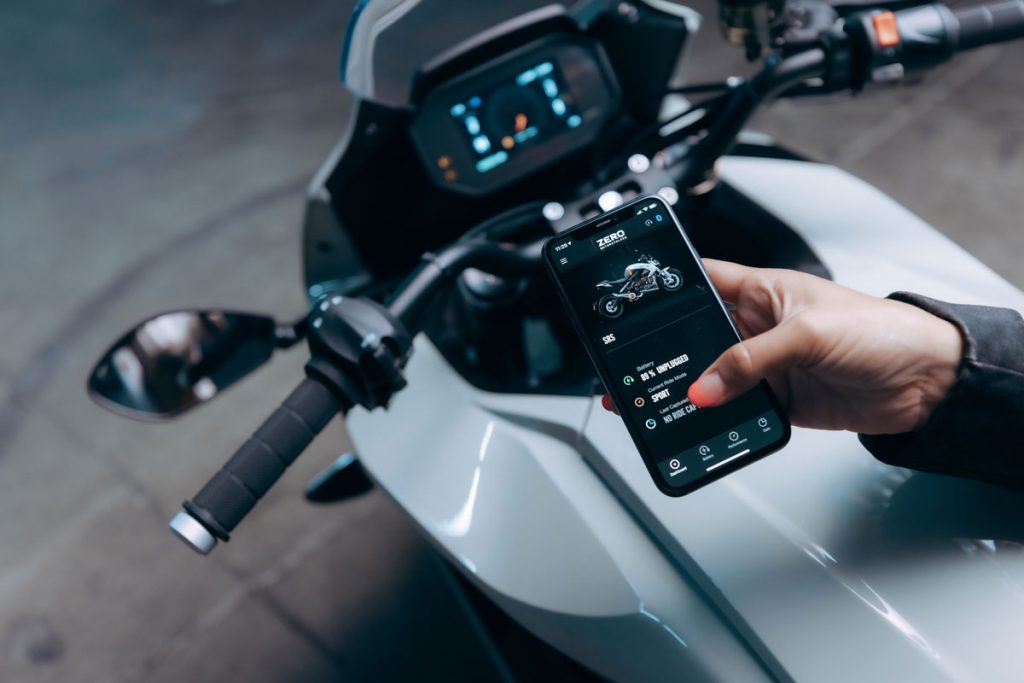 The second important news in fact concerns the software: the Cypher III proprietary operating system can communicate with a new dedicated market store on which updates can be purchased, upgrades and customizations. They range from packages that increase the performance of the bike to heated grips, from navigation functions on the new display to faster charging. Finally, the latest innovation concerns the introduction of the new SR which becomes the basic model of the premium range, that developed precisely on the platform introduced two years ago by the SR-F. To differentiate them are the performance and capacity of the battery with the possibility, however, for SR to increase them later. Without going into detail, for which I refer you to Zero's site, I believe that these changes demonstrate the direction taken by the Santa Cruz company and how it is currently confirmed as the top player in the segment.
Which electric motorcycle impressed you the most? Just let me know.