Tomorrow starts the Motor Valley Fest, an event all weekend long, made of conferences, panels, events all strictly digital for the reasons we know. The advantage is undoubtedly that we can follow everything that interests us directly from home, on the other hand, it is clear that the sensory impact is not the same as being in the mythical places of motoring.
It is a motor culture initiative that stems from a certain tradition but looks to the future a lot and I noticed an interesting program. So here are my tips and all there is to know about Motor Valley Fest 2020.
Motor Valley Fest: what it is and why follow it
Premise: Motor Valley Development is a non-profit association created to enhance the great potential of the so-called Motor Valley which brings together the great motor brands of the Via Emilia at the same table, the beautiful corporate museums and private collections, the circuits, driving schools and event organizers always in the motor sector, making it not only a unique industrial center in the world but also a tourist attraction. And here is the point: attract fans, curious and obviously investments. Through this association it is (or rather it was and will be) You can also live first-person experiences with visits to places that, for a fan of motorcycles and engines in general, they certainly have a magical flavor.
OK, end of the premise.
Among the activities of this association there is the organization of Motor Valley Fest that this year comes to second edition. As expected, will start tomorrow 14 May 2020 and will last the whole weekend, but the initial program has unfortunately been distorted by the COVID-19 emergency and will be held entirely online. We must therefore first of all congratulate the organizers for having been able to react so quickly and not having given up on creating an appointment that also has a training purpose.
The Motor Valley Fest is originally a widespread festival of the Emilia Romagna Motor Land planned over four intense days with events both for families and for those who love sports cars, history, the two and four wheel collectors, the art, culture and good food. In its new digital guise, it becomes an opportunity to explore different themes at different times and from time to time.
How to follow the Motor Valley Fest 2020?
Follow the Motor Valley Fest 2020 it will be quite simple since we should not even leave the house. Certo, on the other hand we will have to give up the tastings… And as for food, I think we all know that in Modena and the surrounding area there is no joking. Ma bando alle ciance: just connect to the site www.motorvalleyfest.it and register for the event or events you intend to follow and I recommend doing it immediately. You will then be sent the link for live streaming.
Yes, but what are these events? Let's see them in detail.
Motor Valley Fest: the appointments chosen by Motoreetto
If part giovedì 14 May at 9.30 with the opening conference dedicated to the evolution of the new scenario that is emerging for the sports car sector and the supply chain. Attenzione: as said before, to access you must register here. Obviously I recommend this appointment – even if there will be more than four that of two wheels. It will be inspired by an analysis carried out by the consulting firm McKinsey, represented by Gianluca Camplone senior partner di McKinsey, and with the testimony of two great technological and market leaders: Markus Heyn, member of the Board of Management of Robert Bosch GMBH and Christian Richter, director Global Automotive Google, that will investigate issues related to the future of mobility, autonomous driving and digitization.
Protagonists of this digital opening session, they will be Louis Carey Camilleri (Chief Executive Officer of Ferrari S.p.A.); Claudio Domenicali (Ducati Motor Holding S.p.A.); Stefano Domenicali (Chairman and CEO of Automobili Lamborghini S.p.A.); Horacio Pagani (Founder & Chief Designer Pagani Cars); Andrea Pontremoli (Dallara S.p.A. Chief Executive Officer and General Manager) and Harald Wester (Maserati Executive Chairman).

In addition to the inaugural event on Thursday there will be many panels and all interesting. I point out in particular The electric shared all 14.00 and the one dedicated to Design all 15. The subsequent round table on the Road safety. (By clicking on the words I have already put you the link to the correct page, ok ok you don't need to say thank you)

The day on Friday is also interesting because the session dedicated to young talents also opens the session: "Innovation & Talents", the area dedicated to the university world and start-ups, i 'talent talk', meetings between university students and companies, will be realized with a new interactive look, a large virtual networking area to get to know the real job needs in companies and to get to know the professional opportunities in the Emilian Motor Valley.

On Saturday and Sunday the appointments are less professional, in the sense of dedicated to insiders, and more for fans and curious. You can indulge yourself with virtual visits. In these images I reported the programma which in any case you can consult in full at dedicated page on the Motor Valley Fest website.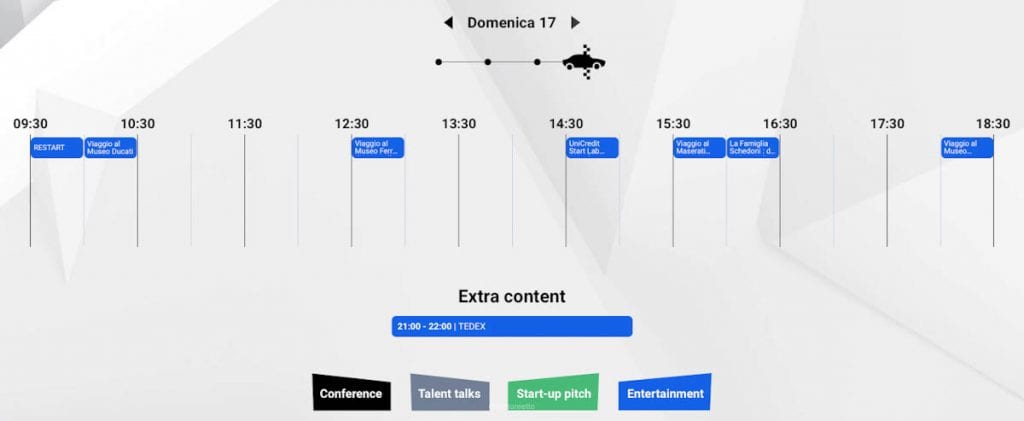 Happy participation and let me know if you find something of your interest.
I am convinced that an informed motorcyclist is a more aware motorcyclist and in his own small way he will act for a better world. For this reason, the articles and videos that I publish on Motoreetto.it are accessible to everyone and without advertising banners because the information must be open and shared.
I am doing it independently and it is allowed by the people who have decided to join my CLAN.
It would be fantastic if you also considered being part of it.