Just over a year ago on this blog I was writing about an interesting prototype developed in Gothenburg in Sweden. I talked about it in questo articolo.
I am happy to see that after fourteen months that project is taking shape. Just a couple of days ago I received an email from the RGNT guys announcing me the opening of the orders of No. 1, the first model in definitive form.
I go to the old web address and find a completely renewed site with the possibility to configure the bike and pre-order it with a deposit of 150 Euro, as well as obviously consulting all the specifications.
Let's review them for a moment…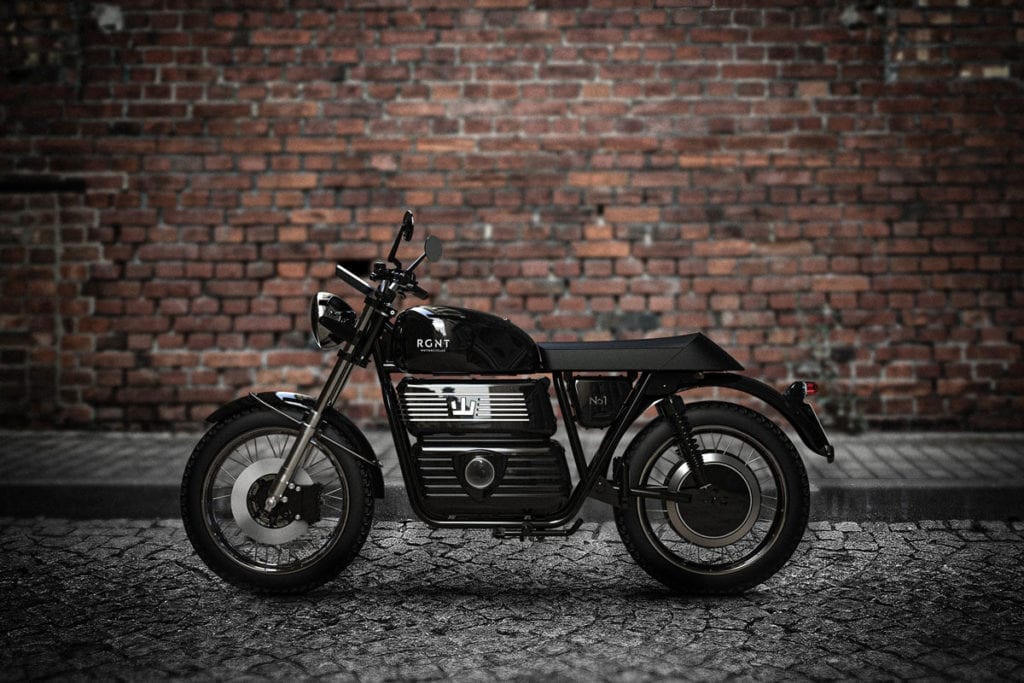 Futurist classic, for all
RGNT No.1 is one 11kW (with continuous power at 8kW) therefore drivable with A1 patent. Lines, frame and suspension are in full sixties style. We therefore find a double cradle in steel tubes, a Ceriani Replica fork from 35 mm, double rear shock absorber adjustable in preload and a pair of 18-spoke wheels″.
The concessions to the classic end here and are enough to please us.
Even the battery cover is far from an awkward camouflage of an internal combustion engine and has its successful vintage style without falling into the banal. Bravi: it was not easy!
It conceals a 72V unit whose capacity is not communicated to us. The declared autonomy is approx 150 km, the weight of 130 kg and the maximum speed of 120 km/h. Four are the hours for a full recharge with the domestic socket while 10.500 are the euros to be paid to put it at home.
I am not crazy about the choice of motor in the hub of the rear wheels: even if it allows not to have the final transmission with consequent elimination of its maintenance, I fear it may aggravate the unsprung masses. But it's my guess. I will only be able to get rid of this doubt after I have tried it.
The lights are led, but to emerge in the midst of so much classicism is the 7 touch instrumentation″ GPS Ready.
If the final version (even if it is still rendering and not photos) keeps faith with what was proposed with the first prototype, I notice some changes here and there. Like in the brand, which from Regent has become RGNT and the headquarters which is now in Stockholm. Intrigued I asked them a couple of questions and Tobias Enholm (Global Sales Manager) he was kind enough to answer me on the fly.
Hi Tobias, how come the change of name and location?
We think RGNT communicates our brand and product in a good way because it plays with the timeless concept of being a Regent with a more modern way of calling the company. Moving headquarters to Stockholm gave us the opportunity to increase our sales force, in customer services, in recruiting and more. We continue to have our heart, production and development, in Gothenburg and the move was part of our growth strategy.
How many motorcycles do you plan to make in this first phase?
We plan to build some 75 this year and overcome 200 in 2021.
And how many you have already built?
We are working on the first batch of 50 motorbike and right now we are at the pre-assembly stage. They wait to be concluded as soon as we receive the parts late due to the COVID…
So this pandemic is slowing you down?
Eh, Unfortunately. We had planned to deliver the first bikes in May, but right now we have postponed deliveries in August.
We will see some of them in Italy, vero? When?
Yes, of course you will see them! We are already in presale on our site also for Italy. As mentioned, we expect the former to be delivered in your country in August.
The sales will be online only or you plan to build a sales network?
Italy will be one of our most important markets. We know that Italians have a great history of fantastic and high quality motorcycles… We are currently in dialogue with some sellers and partners to lay the foundations of a sales network.
For those wishing to learn more or invest i 150 Euro necessary for the down payment, can configure and pre-order their No1 on www.rgnt-motorcycles.com.
I am convinced that an informed motorcyclist is a more aware motorcyclist and in his own small way he will act for a better world. For this reason, the articles and videos that I publish on Motoreetto.it are accessible to everyone and without advertising banners because the information must be open and shared.
I am doing it independently and it is allowed by the people who have decided to join my CLAN.
It would be fantastic if you also considered being part of it.