With us Jeffrey Zani for a few years and our words have often crossed over the pages of some sector magazines. Since the first time I have admired for his ability to find and tell passion stories out of the ordinary. Of course, his attendance in the Romagna environment, huge tank of ideas, it is an advantage for those who can grasp them. So why not make a documentary right from this fertile ground, Romagna?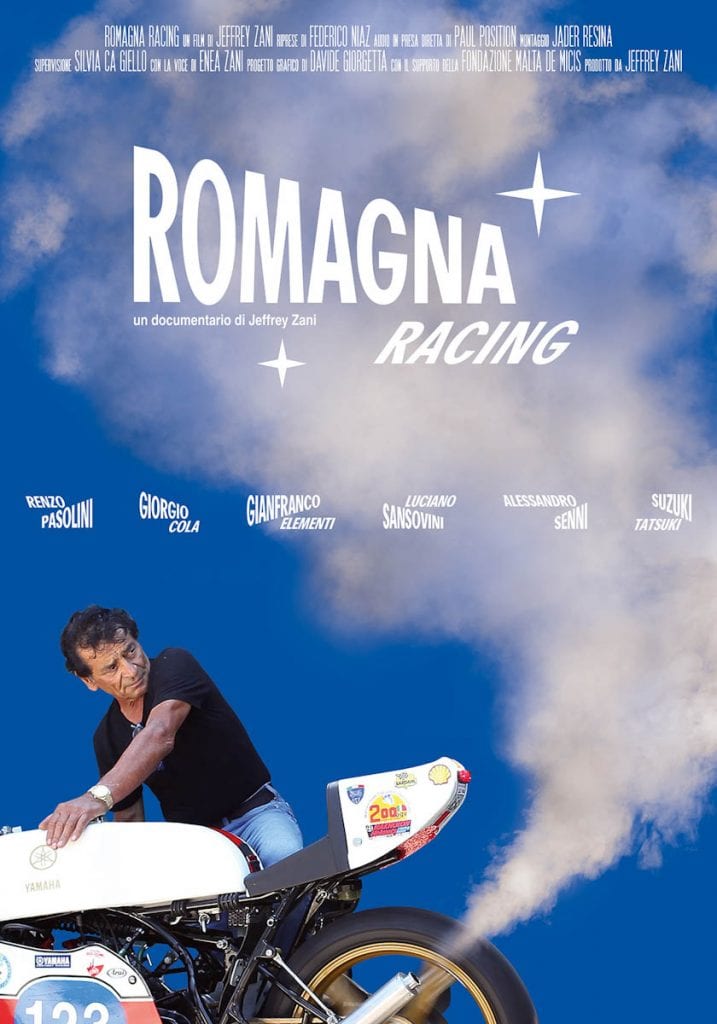 Romagna Racing is a documentary by 55 minutes that revolves around six different protagonists, incarnations of several "motorcycling", lived in a crazy way, bizarre, pure or romantic.
Among them is a legendary pilot: Renzo Pasolini it is studied for the first time by combining archival material and unpublished interviews. There is also room for the young Moto3 talent Tatsuki Suzuki which runs for the Sic58 Squadra Corse of Paolo Simoncelli. But there are also the story of a common enthusiast like Luciano Sansovini, a man who made the conservation of the pilots' tombs disappeared over the years 50, 60 and 70 its mission, and that of Gianfranco Elements, ex-crossista who trained in martial arts.
It is not Jeffrey Zani's first documentary, author of the film on Morbidelli e nel 2016 from "The magician Mancini" dedicated to the technician who worked on the beginnings of champions such as Loris Capirossi, Valentino Rossi, Andrea Dovizioso and Franco Morbidelli and included by Netflix in their programming. This time, however, the subject is different, it is a mosaic of grapevines, as the director himself tells us:
Romagna Racing is in progress and is expected to be released next summer. It is a totally independent project – as in the case of this same blog which is based on the support of readers – Jeffrey Zani has started a campaign through Productions From Below through which, in addition to ensuring the publication of the documentary, you can get t-shirts, poster, DVD and more.
"The project is well underway – explains the director – filming is over, the trailer is already available. In a certain sense, it is as if we had built a GP bike as we did in the old days, with an artisan spirit, taking care of the chassis and engine. To get on the track, however, you must complete the setup: you need circles, i freni, the fork and so on. Advanced and demanding components, without which it is not possible to compete. For this, a fundraiser has been activated to complete the project ".
"Working independently in the context of the 'cinema of reality' is a vocation that guarantees the public a balanced and honest vision" – explains Zani – "Any small support will be of great help. The aim is to continue consistently the path that in 2014 saw the making of the documentary on the glorious team of Pesaro Giancarlo Morbidelli, recently disappeared, and the film about Guido Mancini. The next chapter is almost ready. A big thank you to those who will give your help and to all the people who have seen and enjoyed our films in the past ".
Fundraising will be active at least until June 2020, to support the Romagna Racing project: http://sostieni.link/25041
I am convinced that an informed motorcyclist is a more aware motorcyclist and in his own small way he will act for a better world. For this reason, the articles and videos that I publish on Motoreetto.it are accessible to everyone and without advertising banners because the information must be open and shared.
I am doing it independently and it is allowed by the people who have decided to join my CLAN.
It would be fantastic if you also considered being part of it.