After going into the first day from Trieste to Cadore e nel second day from Cadore to Val Venosta, the third day of my trip Alpi Grand Tour it started in Laas, at the foot of his majesty and majesty Passo dello Stelvio to finish a Locarno on the northern side of the Lake Maggiore. In between there were scenarios so beautiful that it made me move, colors so bright and perfect that you can't even imagine them and roads so perfect that you want to walk them endlessly.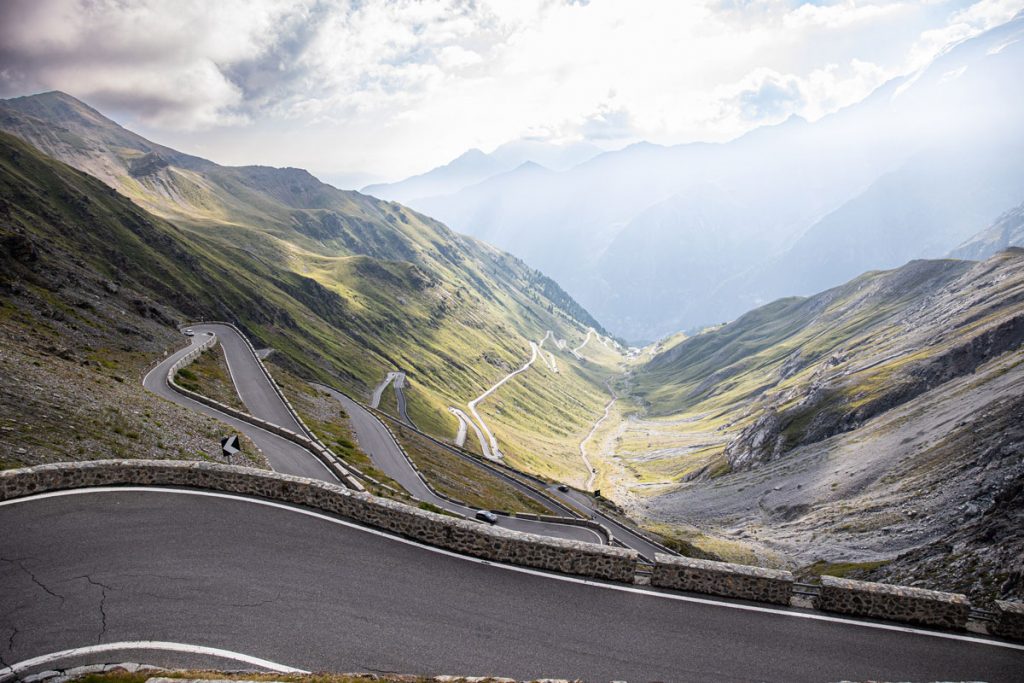 Ma andiamo con ordine: if you have come across this itinerary by chance, you may not know what my Alpi Grand Tour is. I connected Trieste with Nice in six stages, crossing the entire Alpine arc. I did it riding a Royal Enfield Himalayan while my travel companion Filippo was riding a Royal Enfield Scram 411. So simple and accessible bikes as well as the idea of ​​this journey which aims to be an inspiration for those who perhaps want to push themselves a little' beyond without having to pass out. Here you can see the video of the first three stages, including this one I share below
ATTENZIONE: Unfortunately, Google Maps automatically reactivates the motorways and tolls option, just remove it to get the correct path.
What see?
Passo dello Stelvio: it is the alpine pass par excellence and at least once in their life every motorcyclist should put his wheels in religious admiration not only for the majesty of the alpine landscape but for the audacity and skill of those men who sculpted its famous hairpin bends. Unfortunately, its fame also makes it very popular on Sundays during the opening period, making the road busy and dangerous. In addition, there are still many motorcyclists who are convinced that someone cares about their great driving skills or their thunderous exhaust system.… In short, we understood each other, if you come here do it with respect, please.
Umbrail Pass: we Italians are not used to considering it frequently because the Umbrail Pass connects the Stelvio Pass with the Val Mustair in Switzerland and therefore, in genere, we do not walk it. Furthermore, it had not been paved until recently… Unfortunately (or fortunately, It depends on your point of view) now it is. The upside is that anyone can do it and the downside is… that anyone can do it. However, it does not have the traffic that occurs on the Stelvio in the worst moments, so go calm because the view deserves it. Once descended, and then, takes you to Val Mustair where the meadows are so beautiful and tidy that they seem to have been combed by the hairdresser.
Engadine: after crossing the Val Mustair and passing the Ofenpass, you arrive in Zernez and in the wonderful Val Engadina where the lakes of Sankt Moritz follow one another, Silvaplana and Sils on which it is not uncommon in the summer to witness spectacular kite surfing. The best known center is that of Sankt Moritz and is definitely worth a stop. Beyond this particular itinerary, the area is suitable for targeted motorcycle routes because it is full of passes that allow you to enter and exit between Italy and Switzerland.
Maloja: to return to Italy from the Engadine I descended the Maloja or Maloggia Pass, if you prefer. Well paved, it is a spectacle to be driven. But I recommend it: always prudence!