We haven't met yet, but No. 29 is already in the pits Vallelunga waiting for me to accompany me in my absolute debut in a motorcycle race. It will happen this weekend in the second round of the Moto Guzzi V7 Fast Endurance Trophy.
It will be my first race
I have never participated in motorbike races because it has never been part of my way of understanding the bike. Of course when you are young you think about it, you would like to do it, but if there are no opportunities, it ends up growing – and it happens pretty quickly – you become wiser, more mature or simply slower.
I know very well that doing a motorcycle race can be a lot of fun, but they have never been my thing. I am not a competitive type and I use the bike with a too relaxed approach to think of elbowing with other motorcyclists. Yet when last year I saw the Moto Guzzi single-brand trophy born I immediately felt akin to those ancient itchy café racers. It also reminded me of the Triumph Thruxton trophy, the only one that interested me at the time, and the one that unfortunately only lasted a couple of seasons dedicated to the Harley-Davidson XR1200, bikes that at the time I had the opportunity to test on the circuit just before the races.
However, I would never have launched into a championship test, not even with the beautiful and slightly threatening V7 III set up with the kit that l'Guareschi workshop he came up with this trophy.
Why right now?
At the beginning of the year the Piaggio group has shown interest in the activities of In Moto With Africa, the fundraising project that I am honored to be part of and whose aim is to ensure more and more means of transport to and from hospitals in difficult areas of Africa. After mine reportage in Sierra Leone, they told us they wanted to give us the opportunity to have visibility and so here is the seat of the V7.
A challenge for two e…
The V7 Fast Endurance is run in pairs: same bike and two riders who take turns driving each 15 minutes for a total hour of the race. Among the team members I am the only one who has already driven on the track even if never in the race. My adventure partner was chosen for merits on the field instead, being the most passionate about racing and the one who deals directly with fundraising and organizing this type of attendance. Marco, however,, he has never been on the track…
Not to make it debut directly in qualifying, last week we organized a training day on the Magione circuit together with Luca Viola, better known as Run X Fun. Luca brought us a Suzuki GSX-R 600 the 2004 of carburetors, the school ship suitable for taking some' of confidence and with that Marco and I took turns for as many shifts as possible. In the end we were obviously beautiful cooked.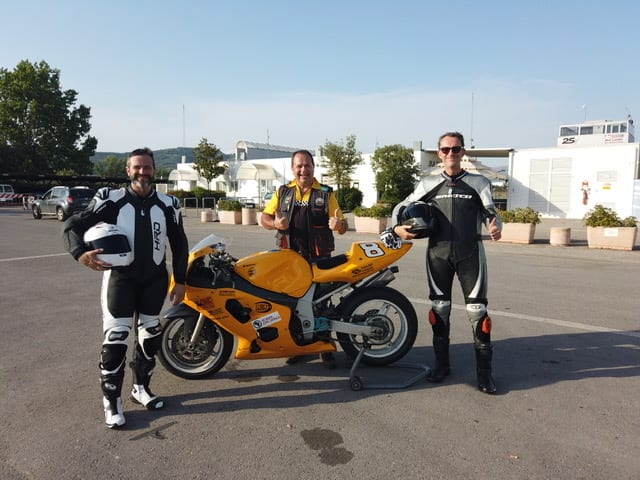 I must say that Marco broke the ice more and more rhythm. Too bad we don't have any more time! Friday starts directly with the first timed tests on a track, Vallelunga, that neither of them has never seen in person.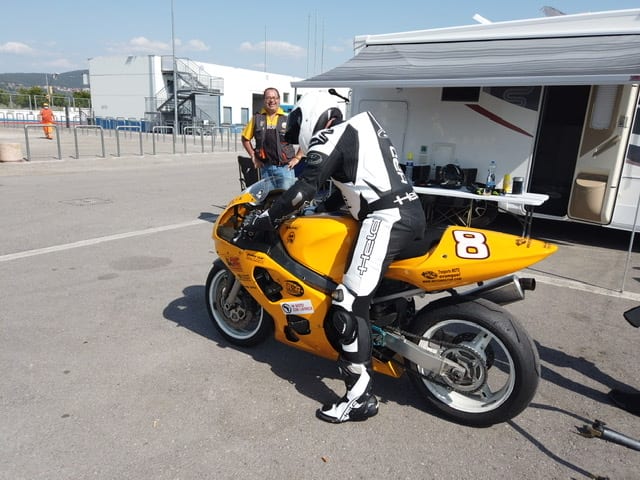 …A company for everyone!
Why try your hand at this venture? To exit the comfort zone, challenge your limits make it clear that with a motorcycle you can do many things and in difficult areas such as Sierra Leone, he South Sudan, Tanzania where we are already active thanks to Doctors With Africa – cuAmA, it can become an instrument of salvation.
You too can make it more and more. Just go up this page and donate what you want. Everything will go directly to Doctors With Africa – CUAMM and will be fully invested in the purchase of ambulances and in ensuring hospital transport.
Marco and I will bring the colors of In Moto Con l'Africa on the track and we will tell you about our experience, you help us to bring mothers and babies closer to their sacred right to health.
I would like to conclude with a special thanks to all the friends who are helping us and to two and in particular to thank Held and Shark who believed in this project and are supporting us.
I am convinced that an informed motorcyclist is a more aware motorcyclist and in his own small way he will act for a better world. For this reason, the articles and videos that I publish on Motoreetto.it are accessible to everyone and without advertising banners because the information must be open and shared.
I am doing it independently and it is allowed by the people who have decided to join my CLAN.
It would be fantastic if you also considered being part of it.